I will be fucking pissed. NASA is warning people that although it is unlikely, a satellite that is falling back to earth may fall around Friday in a populated area.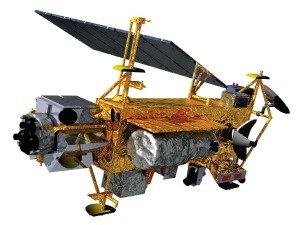 Coming to a backyard near you
From the
NY Daily News
:
NASA warns that a defunct satellite the size of a city bus will soon come spiraling into the Earth's atmosphere and crash to the ground - but they can't say where.
The orbit of the Upper Atmosphere Research Satellite, which was decommissioned in 2005, is rapidly decaying and will likely plummet on Friday, NASA officials said Sunday.
"Reentry is expected Sept. 23, plus or minus a day," the space agency said on its website. "It is too early to say exactly when UARS will reenter and what geographic area may be affected, but NASA is watching the satellite closely."
Experts believe it could make landfall virtually anywhere in the Western Hemisphere, from Canada to the southern point of South America. A more specific location will not be known until about two hours before reentry.
The 6.5-ton UARS measures 35 feet long and 14 feet wide. NASA believes that while the object will burn during reentry, as many as 26 "potentially hazardous objects" could survive with a total weight of about 1,100 pounds.
Should the objects come down in a populated area - a scenario NASA believes to be extremely unlikely - the possibility of a person being hit is one in 3,200. No one has ever been killed by space junk falling to the ground.
The debris field of the objects could spread over 500 miles, NASA said.